Ninja Renewal and Traveler's Guide
ANNOUNCE
10/18/2017 12:12:20 PM

Anju and Hagi are stepping up their game and they have brought a few changes to the Ninja Talent. If that doesn't satisfy you, then check out the new Traveler's Guide! Check out the details below!
---
Ninja Renewal
Anju's and Hagi's Shuriken Red Upgrade changed from one-handed weapon type to two-handed weapon type.

The Critical Damage bonus has been increased.
Shuriken Mastery Reforging Effect increased.
You can get an Alban Knights Training Stone [Party Ninja Skill EXP: 150%] from an Uladh Dungeon Reward.
The difficulty for the Ninja Talent tutorial decreased.
Kunai Storm's durability consumption decreased.
Explosive Kunai's Trap duration increased.
Rank Novice – F – 15 seconds
Rank E – C – 20 seconds
Rank B – 9 – 25 seconds
Rank 8 – 6 – 30 seconds
Rank 5 – 3 – 35 seconds
Rank 2 – 1 – 40 seconds
Smokescreen now has a protection debuff effect for each skill rank.
Shuriken Charge can be used and charged without selecting a target.
Sakura Abyss's charge time decreased by half for each rank.
Sakura Abyss's range per second has increased by double.
The below chart for Anju's and Hagi's Shuriken is for Artisan Upgrade: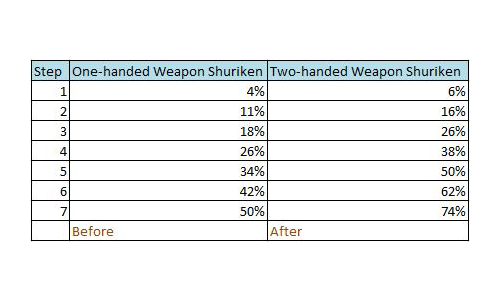 ---
Traveler's Guide
Tired of walking to the Moon Gates or Mana Tunnels to warp somewhere? Trying to stalk Price for a quest? Luckily the Traveler's Guide has everything you need! Check out the details below.
Press the Mabinogi Symbol located on the bottom of the screen to open the Traveler's Guide.
Talent Window is now located in the Character Information Window.
The following are features in the Traveler's Guide:

Price's Location
Daily Shadow Mission
Part-Time Jobs
Raids
Weather
Date and Time
Today's Contents (Banquets, Contests, and Tournaments)
Ability to warp to any Moon Gate or Mana Tunnel

If your level is over 1000 you will have a small fee to warp.