Steampunk Box
ANNOUNCE
11/10/2017 2:31:44 PM

Gear up with the Steampunk Box! Open up the Steampunk Box to have a chance at getting a pair of Golden Cog Blade Wings, a Steampunk Monocle, or the Winged Gear Halo. Check out the details below!

---
Steampunk Gachapon
Sale Dates:
Thursday, Nov. 30 - Wednesday, Dec. 20
---
Item Details:
Using Hydra Transmutation while wearing the Hyper Steampunk Outfits will cause your Hydras to be transformed into pipes! However, both hyper and non-hyper steampunk outfits have the same pose.
New Items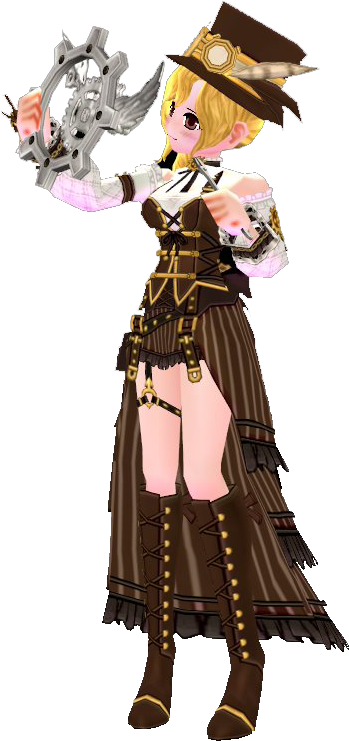 Additional Items
Walking Freakshow 2nd Title Coupon
Outlaw Witch 2nd Title Coupon
Crazy Crafter 2nd Title Coupon
Shamala Hairpin (Reforge: Rank 1)
Shamala Shoes (Reforge: Rank 1)
Shamala Outfit (F)(Reforge: Rank 1)
Shamala Outfit (M)(Reforge: Rank 1)
Battleborn Outfit (M)
Battleborn Outfit (F)
Battleborn Gloves (M)
Battleborn Gloves (F)
Battleborn Helmet (M)
Battleborn Helmet(F)
Battleborn Shoes (M)
Battleborn Shoes (F)
Adonis Wear (M)(Reforge: Rank 1)
Adonis Wear (F)(Reforge: Rank 1)
Adonis Hat (M)(Reforge: Rank 1)

Adonis Hat (F)(Reforge: Rank 1)
Adonis Shoes (M)(Reforge: Rank 1)
Adonis Shoes (F)(Reforge: Rank 1)
Black Star (Reforge: Rank 1)
Rebis Guard Cylinder(Reforge: Rank 1)
Black Dragon Knight's Giant Sword (Reforge: Rank 1)
Krutta Broad Sword (Reforge: Rank 1)
Black Dragon Knight's Bow (Reforging: Rank 1)
Partner's Likeability Increase Candy (30)
Partner's Stress Relief Candy (100)
Fallen Fairy Suit (M)
Fallen Fairy Suit (F)
Lorna's Special Gold Coin Box
Pan's Special Gold Coin Box
Gothic Style Light Armor (F)
Gothic Style Light Armor (M)
Gothic Dress Style Gauntlets
Gothic Dress Style Greaves
Hebona Gloves
Hebona Robe
Fallen Fairy Gloves (M)
Fallen Fairy Gauntlets (F)
Fallen Fairy Sneakers (M)
Fallen Fairy Boots (F)
Broadsword (Reforge: Rank 1, Prefix: Lion Hunter's, Suffix:Tireless)
Hooked Cutlass (Reforge: Rank 1, Prefix: Lion Hunter's, Suffix: Icicle)
Cursed Killer Sword (Reforge: Rank 1, Prefix: Lion Hunter's, Suffix: Destruction)
Demonic Nightmare Dream Catcher (Reforge: Rank 1)
Platinum Hammer of Durability
Enchant Scroll: Fist
Enchant Scroll: Fierce
Enchant Scroll: Nostalgic

Enchant Scroll: Moderato
Enchant Scroll: Owl
Enchant Scroll: Uncomfortable
Enchant Scroll: Small
Enchant Scroll: Vicious
Enchant Scroll: Inconvenient
Tara Infrantry Armor (M)(Reforge: Rank 1)
Tara Infrantry Armor (F)(Reforge: Rank 1)
Tara Infrantry Armor (Giant M)(Reforge: Rank 1)
Tara Infrantry Armor (Giant F)(Reforge: Rank 1)
Tara Infrantry Helmet (M)(Reforge: Rank 1)
Tara Infrantry Helmet (F)(Reforge: Rank 1)
Tara Infrantry Helmet (Giant M)(Reforge: Rank 1)
Tara Infrantry Helmet (Giant F)(Reforge: Rank 1)
Tara Infrantry Gloves (M)(Reforge: Rank 1)
Tara Infrantry Gloves (F)(Reforge: Rank 1)
Tara Infrantry Gloves (Giant M)(Reforge: Rank 1)
Tara Infrantry Gloves (Giant F)(Reforge: Rank 1)
Tara Infrantry Boots (M)(Reforge: Rank 1)
Tara Infrantry Boots (F)(Reforge: Rank 1)
Tara Infrantry Boots (Giant M)(Reforge: Rank 1)
Tara Infrantry Boots (Giant F)(Reforge: Rank 1)
Rusty Hammer of Proficiency
Dual Gun Mastery Training Potion
Flash Launcher Training Potion
Grapple Shot Training Potion
Bullet Slide Training Potion
Shooting Rush Training Potion
Bullet Storm Training Potion
Reload Training Potion
Way of the Gun Training Potion
Blue Upgrade Stone
Red Upgrade Stone
Fine Gem Powder
Regular Gem Powder
Fixed Color Dye Ampoule (#000000, #FFFFFF, #FF0000, #0000FF, #FFFF00, #7FFFD4, #800080, #FFB330, #3678F1, #6C1818, #0DEE2B)