Hatsune Miku Cash Shop Update!
ANNOUNCE
2/1/2013 11:44:08 AM
Starting March 28th to April 9th, 2013, you can get all of your favorite items. Read on for more details!
Hatsune Miku Dye Gachapon

Each gachapon will give one random dye ampoules with the possibility of Fixed Dye, Metal Fixed Dye, Spirit Dye, and Fixed Wand Dye. There are also three special dyes of each type colored to resemble the Hatsune Miku, Kaito, Kagamine Len, Kagamine Rin characters!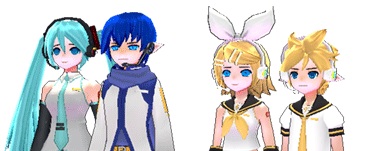 • Hatsune Miku dyes are in the color of Miku's hair and eyes
• Kaito dyes are in the color of Kaito's hair and eyes
• Kagamine dyes are in the color of Kagamine's hair and eyes
Hatsune Miku Soul Stones
Works just like a normal soul stone but will show Hatsune Miku instead of Nao! This item can be traded once and all the same effects apply.
The Mabinogi Team