Sealed Chain Box
ANNOUNCE
12/18/2017 5:39:55 PM

Dress like Eiren with our new gachapon! Unchain your Sealed Chain Box today for a chance at some brand new items, like Possessed Eiren's Wings, Eiren's Chain Slasher Outfit, and Fledging Assassin Outfit! Check out the details below!
---
Sealed Chain Box
Sale Dates:
Thursday, Jan. 4 - Wednesday, Jan. 24
---
Item Details:
The packages are a part of our current promotion, Shy's Star Shop! The Special Eiren Chain Slasher Outfits contain a Dorcha Snatch Leeching Rate Increase Buff and a Death Mark Damage Increase Buff.
New Items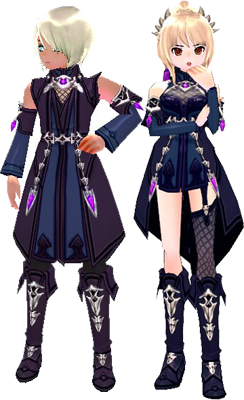 Star Bag (10x17) Exchange Coupon
Rainbow Beam Appearance Change Scroll
White Beam Appearance Change Scroll
Red Beam Appearance Change Scroll
Blue Beam Appearance Change Scroll
Green Beam Appearance Change Scroll
Eiren Costume Dye Ampoule Set(#2D1F36, #283558, #301E45, #8C0CC5, #D3AF92)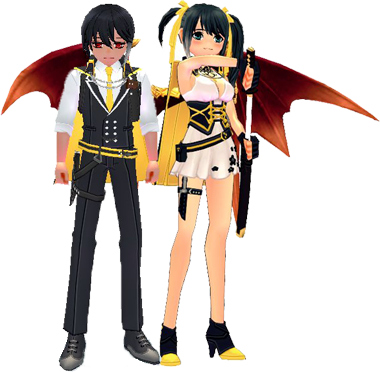 Female Assassin Outfit Dye Ampoule Set(#D5D1CD, #181717, #F6CE1C, #252525, #55AEBC)
Male Assassin Outfit Dye Ampoule Set(#22252C, #9E9E9E, #FFD237, #E5EAEE, #55AEBC)
Chain Impale Training Potion
Raging Spike Training Potion
Spinning Slasher Training Potion
Chain Crush Training Potion
Chain Sweep Training Potion
Dorcha Conversion Training Potion
Anchor Rush Training Potion
Death Mark Training Potion
Chain Burst Training Potion
Bachram Explosion Training Potion
Enchanted Combat Experience Potion (30 minutes/ 4x EXP)
Talent Reset Capsule
Attack Delay Reduction Potion (Quantity: 10)
Phoenix Essence (Quantity: 10)
Attack Delay Reduction Potion (Quantity: 3)
Phoenix Essence (Quantity: 3)
Additional Items
Fleet Feet (M)
Fleet Feet (F)
Black Mask Staff (Reforging: Rank 1)
Holy Eagle Mask
Enchant Scroll: Coma
Enchant Scroll: Amnesia
Enchant Scroll: Stabbing
Blue Upgrade Stone of Protection
Red Upgrade Stone of Protection

Toy Crossbow Appearance Change Scroll
Toy Bow Appearance Change Scroll
Coco's Bracers (Reforging: Rank 1)
Coco's Heels (Reforging: Rank 1)
Coco's Hairpin (Reforging: Rank 1)
Coco's Mini-Dress (Reforging: Rank 1)
Red Collar of Health (Pet Totem)
Blue Collar of Mana (Pet Totem)
Yellow Collar of Stamina (Pet Totem)
Luxe Pink Collar (Pet Totem [HP+MP+STAM])
Sewing Pattern - Rosemary Gloves
Crystal Hammer of Durability
Enchant Scroll: Champion
Blue Upgrade Stone of Luck
Red Upgrade Stone of Luck
Commercing Reforging Tool
Platinum Hammer of Durability
Regular Gem Powder Upgrade Coupon
Merlin Fixed Dye Ampoule Set
Starlet Fixed Dye Ampoule Set
Professor J Fixed Dye Ampoule Set
Culinary Artist Fixed Dye Ampoule Set
Treasure Hunter Fixed Dye Ampoule Set

Potent Finest Shadow Crystal (Tradable)(Quantity: 10)
Fine Echostone Awakening Stimulant Upgrade Coupon
Crusader EXP Potion (30 min)(Quantity: 5)
Starlet Circle Outfit (M) (Reforge: Rank 1)
Starlet Circle Outfit (F) (Reforge: Rank 1)
Starlet Circle Boots (M) (Reforge: Rank 1)
Starlet Circle Boots (F) (Reforge: Rank 1)
Magus Crest Outfit (M) (Reforge: Rank 1)
Magus Crest Outfit (F) (Reforge: Rank 1)
Culinary Artist Outfit (M) (Reforge: Rank 1)
Culinary Artist Outfit (F) (Reforge: Rank 1)
Treasure Hunter Field Wear(M) (Reforge: Rank 1)
Treasure Hunter Field Wear(F) (Reforge: Rank 1)
Name/Chat Fixed Color Change Potion(30 Days)
Pan's Goldbox Upgrade Coupon
Lorna's Goldbox Upgrade Coupon
Potent Finest Shadow Crystal Upgrade Coupon
Red Upgrade Stone (Quantity: 5)
Blue Upgrade Stone (Quantity: 5)
Magus Crest Earrings (M)
Magus Crest Earrings (F)
Magus Crest Bracer
Magus Crest Boots (M)
Magus Crest Boots (F)
Culinary Artist Safety Boots (M)(Reforge: Rank 1)
Culinary Artist Safety Boots (F)(Reforge: Rank 1)
Treasure Hunter Bracers (M)(Reforge: Rank 1)
Treasure Hunter Bracers (F)(Reforge: Rank 1)
Treasure Hunter Boots (M)(Reforge: Rank 1)
Treasure Hunter Boots (F)(Reforge: Rank 1)
Fixed Color Metal Dye Ampoule (#000000, #FFFFFF, #0000FF, #FFFF66, #7FFFD4)
Fixed Color Dye Ampoule (#000000, #FFFFFF, #FF0000, #0000FF, #FFFF00)